Wood - Teak maintenance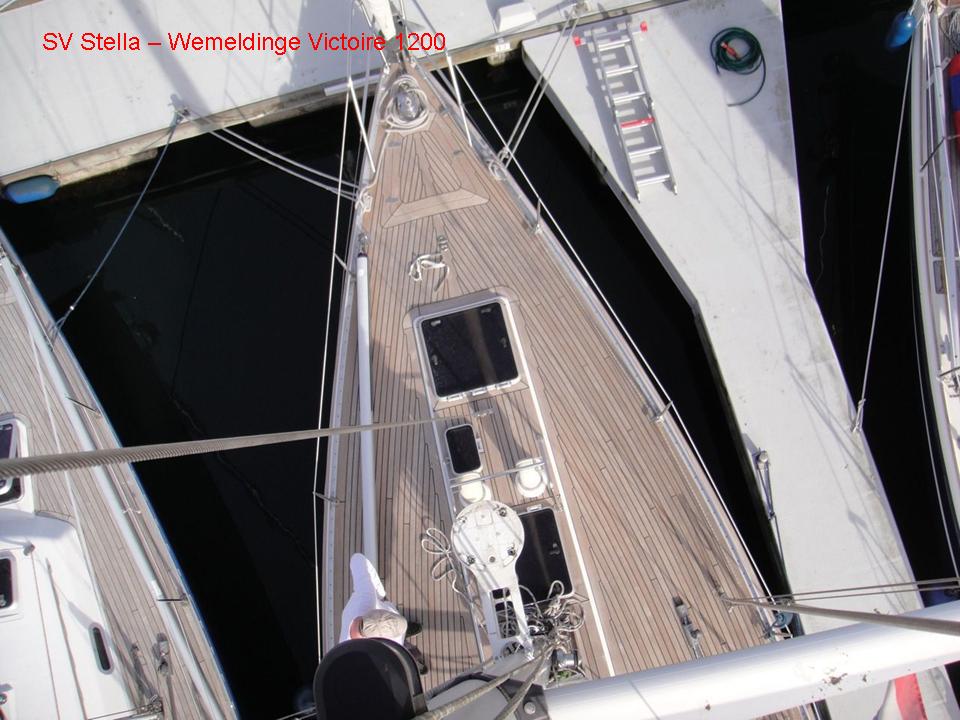 It is a necessary to clean and maintain teak deck. Indeed, teak is an exotic wood which will resist bad weather, salty air, accidental spots... but which will also gray, soak water, become deformed, be drained and then crack.
Admitted, older seamen will tell you sea water is enough for a good cleaning, but wood lovers will note that teak grays with time and loses its so pleasant original color. Moreover, we make the error of rubbing with a hard brush hoping to get a thourough cleaning. Even there, we are mistaken because the friction of a hard brush on wood digs fiber and we find ourselves with a teak full of scratches. Then the teak leaves splinters which is not pleasant !
CLEAN - STAGE 1
The product used for cleaning teak is the SUN TECK.
Proceed as follows :
- Wet teak beforehand
- Prepare your dilution : 1 litre of SUN TECK in 3 to 5 litres of fresh water according to the state of the teak..
- Pour this mixture. Use a soft brush, spread out this mixture over all the surface to be cleaned. Take care that the product covers all the surface.
- Let it act for fifteen minutes. You may use this opportunity to enjoy a cool beer or a good cup of thee...
- Rinse abundantly in order to remove all SUN TECK, which you have just poured. You may notice quite some blurr.
The first stage is carried out. Cleaning with SUN TECK made it possible to remove grease and spots of hydrocarbons.
Carry on immediately to stage 2 which will complete the cleaning process:
BRIGHTEN - STAGE 2
You will have to apply BRIGHT TECK. Why this second stage immediately after the first? In order to obtain an optimum result. In fact, SUN TECK allowed you to remove spots of grease and hydrocarbons. It is important to bring back to your teak its original color. Proceed in the same way as for cleaning :
- Make sure the teak is wet.
- Dilute 1 litre of BRIGHT TECK for 3 to 5 litres of water..
- Spread out the mixture using a soft brush.
- Take care that the solution covers all wood.
- Let it act for fifteen minutes… Time for a second beer?
- Rinse abundantly as done earlier;
Wet and rinse the hull regularly during the above process. This will avoid stripes on the gelcoat.
This maintenance takes 30 minutes (and two beers?) without deteriorating your teak.
PROTECT – STAGE 3
Option 1: nourish the teak with colorless Wonder oil or colored Golden Oil and finish with STOPO to render the teak hydrophobic
Option 2: Use Craft Care Teak Protector - Adored by superyacht captains and crew.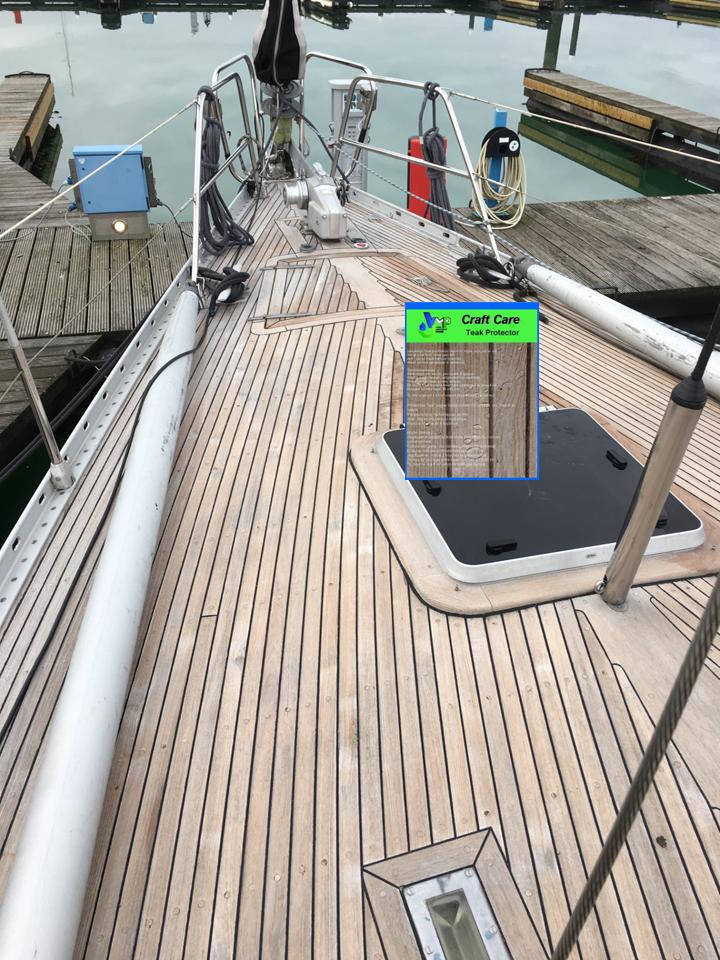 Teak deck of a Trintella 44, cleaned with Sun & Bright Teck, protected with Craft Care Teak Protector. Result after 5 wintermonths (Oct '16 - Mar '17) in Breskens, NL