Biodigester marine
LFC-25 Biodigester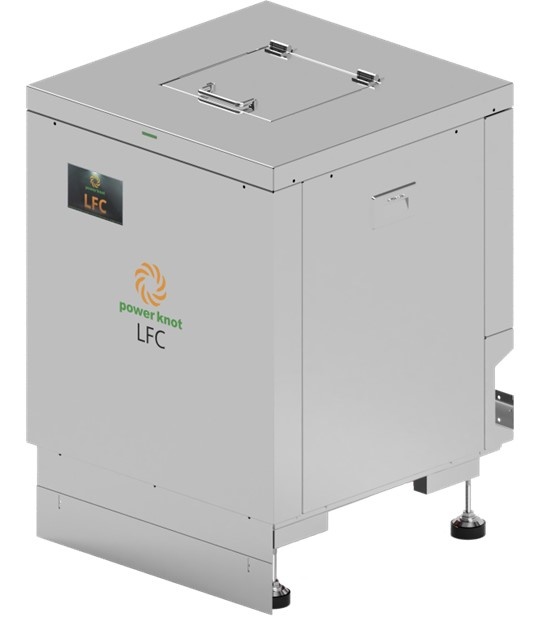 About
The LFC-25 biodigester is the smallest commercial grade food digester on the market with a nominal capacity of 25 kg (55 lb) of food waste per day.
It is the size of a residential dishwasher (600 mm x 600 mm, 24" x 24") and can fit under a counter top. The machine can be fitted flush on the sides. It can be flush at the back due to its trough for cable and plumbing connections.
The LFC-25 biodigester incorporates Power Knot's seventh generation technology having improved usage, statistics, and diagnostics. It is available in versions for land and marine applications.
Designed, developed, and manufactured by Power Knot in Silicon Valley, California.
Features
Minimal operating costs
Aerobic digestion provides quiet and odor free operation
Digests from 10 kg (22 lb) up to 75 kg (165 lb) per day of food waste (1)
Easily installed with standard plumbing and electrical connections
Can be situated in kitchens and work areas
Universal ac power input using power cord specific to your region
Pump outputs waste water, removing the need for grade level drains
Flush trough at back for cables and plumbing
Weight of waste is continuously monitored and reported — shows statistics on usage and waste food digested
Incorporates comprehensive diagnostics and service schedules
Connects to the cloud so statistics on usage, diagnostics, and service schedules can be monitored remotely
Easily used by existing staff
Color touch screen interface
(1) Maximum capacity is determined by type of waste and frequency of feeding
Benefits
Digests food waste on site at your facility
Converts all waste to water which can be safely discharged into sewage systems
Eliminates cost of other disposal methods
Removes need for transportation of food waste off site
Runs continuously to avoid the accumulation of waste
Leaves no residue that needs to be disposed of
Improves operations by eliminating the need to store organic waste
Easy installation under counters and in small spaces
One year warranty
Manage your account
Log in to your existing account or create a new account.
VMP Vessel Maintenance Products
DR. ROBERT CLARASTRAAT 11
2070 ZWIJNDRECHT
Belgium View on Google Maps
BE0830396016