Matt Chem Marine SUPCLEAN 1L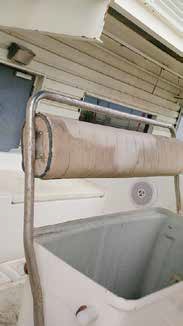 Removes dirt, mildew and grease stain from all kind of vinyl. Keeps vinyl soft. Does not streak, stain or discolour vinyl. Does not contain silicones nor solvents.
Use pure. Rub with a soft sponge.
Skaï, vinyl or synthetic leather are as many terms to indicate the marine plastics used for saddleries. These plastics are fragile and thus require a particular care or they tarnish and become sticky.
The use of solvents is banned for their cleaning. The Matt Chem® Marine range offers a shampoo on vegetable basis.
SUPCLEAN is intented for the cleaning of skaï and vinyl and enables to bring back the white colour to your cushions without making them sticky.
Apply SUPCLEAN with a sponge, then rub and rinse. It is not necessary to rinse abundantly.
Being free from petroleum solvents, SUPCLEAN does not attack the protective film of skaï and of vinyl and consequently you will not be able to remove with this product a stain impregnated for a very long time. In fact, this operation of "scouring" would remove the protective film which would result in making theplastic sticky and facilitate the fixing of dirt.
0
stars based on
0
reviews